MARKET WATCH
Here we go into the final month of the 2020 election cycle, and it looks to be as contentious as its been billed.  Adding to the drama, President Trump and his wife have contracted Covid-19.  The point I want to make is that whatever your political persuasion, the election should not be the sole focus of your investment strategy.  Elections come and go and soon this one will be relegated to the ash heap of history. 
The nation will survive four more years of a Trump Presidency, and it will also survive a Biden Presidency, even if the Democrats sweep the Presidency, the House of Representatives and the Senate.  As we enter the fourth quarter, the Senate will be confirming a Supreme Court Justice, Amy Coney Barrett.  The confirmation of Barrett will be seen as either an overstep by the Republicans, or it may be what the majority of the electorate wants. Conversely, if the Democrats sweep and try to effect changes of which the electorate disapproves, the 2022 mid-term elections will readjust the balance of power and hamstring policy, as happened to Clinton, Bush, Obama and Trump.
I do hope both candidates firmly renounce violence by "white supremacists" and "antifa" during the time period between the election and the inauguration, as cities burning is not something any of us want to see, and it can be controlled.  Far left progressives who espouse "Cancel Culture" should ask themselves if destroying neighborhood businesses, tearing down monuments and looting is progress.  It is important to have monuments, which remind us of our past, even the parts of history which recount periods of time during which we were "less than perfect" as a country.  We are constantly evolving as a society, and those who forget the past are doomed to repeat it.
The markets continued their recovery during the third quarter, and the consensus is we have begun a new bull market.  While bull market definitions vary widely, the S&P 500* surpassing its previous high, which was 3,386.15 on February 19, 2020 is the most common one.  This occurred when the S&P 500* closed at 3,389.78 on August 19, 2020.  Others maintain we entered the new bull market when the S&P 500* increased by 20 percent on April 8th, after the huge drop in March.  Personally, I'd like to see the Dow Jones Industrial Average (DJIA)* set a new high, which it hasn't, in order to have confidence the new bull is in full stride.
Regardless of the metric used to define a bull market, there is no denying the recovery which has ensued, since the economy was abruptly shut down for "14 days to flatten the curve".  Even though many states remain in partial shut down mode, much of the country is open for business, the virus is much less deadly, testing has increased dramatically, and many pharmaceutical companies have vaccines in various stages of development.  While a second wave, accompanied by the onset of the flu season is certainly a strong possibility, the sheer number of people who have contracted Covid-19 makes herd immunity a distinct possibility going forward.
As for the major indexes, the NASDAQ* has been screaming bull market the loudest.  It raced to a record high of 12,056.44 on September 2nd but closed the quarter at 11,167.51 up 24.46% year to date (YTD).  While this could be a bit of "irrational exuberance" as happened in 1999, many investors feel the tech heavy index is a bell-weather for a "new economy".  I guess we will see, and that is why I would like to see the DJIA* confirm the new bull market.  The S&P 500*, which consists of the 500 largest companies in the US market, also set a new record of 3,580.84 on September 2nd and has since sold off some to finish the quarter at 3,363.00  up 4.09% YTD.  The laggard of the bunch has been the DJIA*, which has yet to surpass its pre-Covid-19 record of 29,551.42 set on February 12th.  It ended the third quarter at 27,781.70 down 2.65% YTD.
Unemployment continues to drop as the September jobs report released on October 2nd indicated 661,000 non-farm jobs were added, and the unemployment rate dropped to 7.9%.  The Fed is on hold with interest rates, as inflation continues to run less than 2% and Congress may or may not add more stimulus before the election so, the stage is set.
TRADITIONAL AND ROTH IRA CONTRIBUTION AND INCOME LIMITS
If you are not covered by an employer retirement plan, your contributions to a traditional IRA are generally fully tax deductible. For those who are covered by an employer plan, the income limits for determining the deductibility of traditional IRA contributions in 2020 have increased. If your filing status is single or head of house-hold, you can fully deduct your IRA contribution up to $6,000 ($7,000 if you are age 50 or older) in 2020 if your modified adjusted gross income (MAGI) is $65,000 or less (up from $64,000 in 2019).
If you're married and filing a joint return, you can fully deduct up to $6,000 ($7,000 if you are age 50 or older) in 2020 if your MAGI is $104,000 or less (up from $103,000 in 2019). If you're not covered by an employer plan but your spouse is, and you file a joint return, your deduction is limited if your MAGI is $196,000 to $206,000 (up from $193,000 to $203,000 in 2019), and eliminated if your MAGI exceeds $206,000 (up from $203,000 in 2019).
 The income limits for determining how much you can contribute to a Roth IRA have also increased for 2020. If your filing status is single or head of household, you can contribute the full $6,000 ($7,000 if you are age 50 or older) to a Roth IRA if your MAGI is $124,000 or less (up from $122,000 in 2019).  If you're married and filing a joint return, you can make a full contribution if your MAGI is $196,000 or less (up from $193,000 in 2019). Contributions can't exceed 100% of your earned income.  Contact me to get more information.
The Shape of a Recovery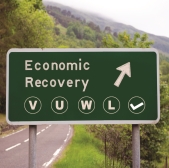 THE SHAPE OF ECONOMIC RECOVERY 
On June 8, 2020, the National Bureau of Economic Research (NBER), which has the official responsibility for determining U.S. business cycles, announced that February 2020 marked the end of an expansion that began in 2009 and the beginning of a recession.  This was no great surprise considering widespread business closures due to the coronavirus pandemic and the resulting spike in unemployment, but it was an unusually quick official announcement. 
The NBER defines a recession as "a decline in economic activity that lasts more than a few months," so it typically takes from six months to a year to determine when a recession started. In this case, the NBER's Business Cycle Dating Committee concluded that "the unprecedented magnitude of the decline in employment and production, and its broad reach across the entire economy," warranted the designation of a recession, "even if it turns out to be briefer than earlier contractions."
Another common definition of a recession is two or more quarters of negative growth in gross domestic product (GDP), and it's clear that the current situation has met that test. The U.S. economy shrank at an annual rate of 5% in the first quarter of 2020, a significant but deceptively small decline, because the economy was strong during the first part of the quarter.  GDP decreased at an annual rate of 31.4 percent in the second quarter of 2020, according to the "third" estimate released by the Bureau of Economic Analysis on September 30, 2020.  That represents approximately an 8 percent drop in GDP during the second quarter alone. By comparison, the largest quarterly drop since World War II was 10% in the first quarter of 1958, followed by 8.4% in the fourth quarter of 2008.
Most economists believe that GDP will have turned upward in the third quarter as businesses continued to open, but with the extreme decline in business activity during the first half of 2020, it will take sustained growth to return the economy to its prerecession level. The Federal Reserve Open Market Committee has projected a 6.5% annual drop in GDP for 2020, followed by 5.0% growth in 2021 and 3.5% growth in 2022. The simple math of these projections suggests the economy may not return to its 2019 level until 2022.
In an Economic Forecasting Survey by The Wall Street Journal, which polls more than 60 U.S. economists each month, 13.0% of respondents thought the recovery would be V-shaped, 11.1% expected it to be W-shaped, 5.5% indicated it would be U-shaped, and none thought it would be L-shaped.  The vast majority, 70.4% believed the recovery would take a "Nike swoosh" shape, which suggests a sharp drop followed by a long, slow recovery. This view factors in the possibility that businesses may be slow to rehire, and consumers could be slow to resume their prerecession spending patterns. It also considers that some businesses may be impacted longer than others. Airlines do not expect to return to pre-COVID passenger activity until 2022, and movie theaters, beauty salons, sporting events, and other high-contact businesses may struggle until a vaccine is developed.  The swoosh seems to be the current shape I see.
Company Information
John H. Kaighn offers various products and services under the trade name of Jersey Benefits Advisors.
 PO Box 1406
Ocean City, NJ 08270
Phone: (609) 827-0194
Fax: (856) 637-2479
Email: kaighn@jerseybenefits.com
John H. Kaighn is an Investment Advisor Representative & Registered Representative of Royal Alliance Associates, Inc.  Securities and Advisory Services are offered through Royal Alliance Associates, Inc. (RAA) Member FINRA & SIPC.  RAA is separately owned and other entities and/or marketing names, products or services referenced here are independent of RAA.
10 Exchange Place
 Suite 1410
Jersey City, NJ 07302
Royal Alliance Associates, Inc. is not affiliated with Jersey Benefits Advisors or Jersey Benefits Group, Inc.
Insurance Services and Third Party Administration offered through Jersey Benefits Group, Inc., a licensed Insurance Agency in the State of New Jersey.
PO Box 1406
Ocean City, NJ 08226
Phone: (609) 827-0194
Fax: (856) 637-2479
Email: kaighn@jerseybenefits.com
All opinions expressed in this newsletter are independent of Royal Alliance Associates, Inc. and solely those of John H. Kaighn and Jersey Benefits Advisors.
*The S&P 500, the DJIA, the NASDAQ and others referenced are unmanaged indices that are widely used as indicators of Market Trends. Past Performance does not guarantee future results and the performance of these indices does not reflect the fees and charges associated with investing.  It is not possible to invest directly in an index.
*Dollar Cost Averaging through a systematic savings plan is an excellent way to build an account without a sizeable initial investment.  Saving a portion of our pay each month is very important.  Company sponsored pension plans are one method to save and should be used for retirement.  Other systematic investment accounts, such as ROTH IRA's, Traditional IRA's, Coverdell Accounts, 529 Plans, Brokerage Accounts and Annuities can also be opened, and debited directly from checking or savings accounts.  For more information, just call to set up an appointment.  Referrals are always welcome. 
John H. Kaighn