MARKET WATCH
Welcome to the Summer of Love!  Jenny Durkin may wish she was back on Haight-Ashbury in San Francisco in 1967, but the reality of the CHOP in 2020 Seattle is about as far removed from the Hippie heyday as it is geographically from San Francisco.  However, there are some parallels worth mentioning. 
The original Summer of Love attracted a wide range of people of various ages: teenagers and college students drawn by their peers and the allure of joining a cultural utopia; middle-class vacationers; and even partying military personnel from bases within driving distance.  The neighborhood's fame reached its peak as it became the haven for numerous psychedelic rock performers and groups of the time. The members of Jefferson Airplane, the Grateful Dead, and Janis Joplin, all lived close to the intersection. They not only immortalized the scene in song, but also knew many within the community.
However, the Haight-Ashbury district could not accommodate this rapid influx of people, and the neighborhood scene quickly deteriorated. Overcrowding, homelessness, hunger, drug problems, and crime afflicted the neighborhood. Many people left in the autumn to resume their college studies.  On October 6, 1967, those remaining in the Haight staged a mock funeral and called it "The Death of the Hippie" ceremony.
For those of us who were around during that time period, we also remember the harrowing political events and tumultuous civil rights protests that culminated in riots in many of our cities.  However, I also thought it ushered in an era that gave equal protection under the law to ALL people and that the phrase "All men are created equal", meant something.  (I can't believe I have to say this, but men means MANKIND, regardless of whether a person is male or female and certainly regardless of race.)   
Economically, the destruction generated at the end of the 1960's gave way to the 1970's, a period of stagflation, which many would rather forget.  Not that history repeats itself exactly, but to paraphrase a friend it certainly rhymes.  Fast forward to today, add in a pandemic, a cultural war and an economic shutdown, and I guess one can understand why a few folks out there are suffering from a bit of anxiety.  Hold onto your hats because the political battle for the Presidency is just beginning.
So, where are we on the economic front at the midpoint of 2020 you might ask?  On June 8, 2020 the National Bureau of Economic Research (NBER) officially deemed the economy to be in recession, which began in February.  We really won't have confirmation of the textbook definition of recession (two quarters of negative growth) until July 30th, when the Bureau of Economic Analysis (BEA) reports second quarter GDP.  However, with a negative 5% growth rate for the first quarter and the uneven economic reopening during the second quarter, it is pretty much a foregone conclusion the recession will be confirmed.
With all of the stimulus the government has authorized so far to help the American people during the economic shutdown, the stock market has recovered quite a bit from the March doldrums. The Dow Jones Industrial Average (DJIA)* closed on June 30th at 25,812.88 down 9.55% year to date (YTD).  It has been the worst performing index this year, and it had the steepest collapse of the major indices in March when the Dow declined 37.09%.  The S&P 500* finished midyear at 3,100.29 a decline of 4.04% YTD.  The NASDAQ* ended the first half of the year at 10,058.77 which was an increase of 12.11% YTD.
Since the stock market is a leading indicator, it is surely flashing signs of better times to come, as the recession ends and a new bull market begins.  With that said, there is still ample opportunity for a visit to those March lows or worse before the economic recovery and new bull market materialize.  There is also the possibility the NASDAQ* is the most accurate leading indicator at this point, and the V shaped recovery has already begun.  This is why I ultimately end this section with the phrases dollar cost averaging* and disciplined systematic investing, because we don't have a reliable crystal ball. 
UNEMPLOYMENT NEWS AND CHOP CLOSURE
The Bureau of Labor and Statistics (BLS) released the Employment Situation Summary for the month of June on July 2, 2020 and the US economy added a total of 4.8 million nonfarm jobs, while the unemployment rate declined to 11.1 %.  While this is good news, as the economy struggles to recover from the shutdown in response to the coronavirus pandemic, the 11.1 % unemployment rate still represents approximately 17.8 million individuals who are not working and are collecting unemployment insurance.  Hopefully, as the economy gradually opens, and as spikes in cases are contained, the number of unemployed Americans will continue to decline.  In the meantime, all we can do is continue to protect those individuals who tend to be more vulnerable to the virus and respond to keep outbreaks at bay.
In an update to the Market Watch section of this newsletter, the Summer of Love in Seattle didn't get the opportunity to go beyond June, as the Seattle police removed the protestors from their CHOP autonomous zone on July 1, 2020.   I guess there were less parallels to the original Summer of Love, and more negatives for the mayor.  However, I think mayor DeBlasio is having his own Summer of Love in New York City, since his billion-dollar cut in the police budget wasn't enough to satisfy Alexandria Ocasio-Cortez.  It is going to be an interesting summer my friends.
SET YOUR FINANCIAL GOALS
Just as in other aspects of your life, setting financial goals is a tried-and-true way to reach those goals.
You can create a list of your financial goals on your own or you can work with an investment professional who has experience in this area. To make the most of this exercise, assign each of your financial goals a price tag and a time frame. Then, identify the kinds of savings and investing strategies that may be appropriate for meeting your goals.
One advantage of working with an investment professional is that he or she may provide the encouragement you need to move from thinking about your goals to actually listing them out, and taking steps to achieve them.
While everyone's circumstances are a little bit different, there are essentially four steps to creating a strategy for meeting your goals that will work for just about every person and situation:
     1. Identify your most important short-, medium- and long-term financial goals.
     2.   Estimate how much each of    your goals will likely cost
     3.   Set up separate savings or investment accounts for each of your major goals.
     4.   Choose investments suited to meeting each of your goals based on your time frame and your tolerance for risk.
Before you can choose investments to meet a particular goal, you need to have an idea of what the goal will cost and your time frame for meeting the goal.
It's relatively easy to anticipate the costs of short-term goals, since they probably won't be significantly different from what they are today. Estimating the costs of goals that are further in the future, especially major ones like the cost of college or retirement, can be a bit trickier. FINRA's College Savings Calculator and Retirement Calculator can help.
For goals that are more than a few years away, you also need to consider the impact of inflation on your assets—something you can figure out using an online calculator. Historically, inflation has averaged about 3 percent per year. And the costs of tuition at both public and private colleges typically rise even faster. That means you'll have to earn enough on your investments to offset these rising costs.
The article, Set Your Financial Goals, is from the Financial Industry Regulatory Authority's (FINRA) website, which is www.finra.org.  Many of the links to FINRA and articles like this one can be found on the Jersey Benefits website.  While many of us have numerous financial goals operating at the same time, overcoming inertia is one of the most difficult steps to take.
Sometimes, after coming through a troublesome period like we're currently experiencing, it is prudent to review goals and adjust them accordingly.  Also, as we progress through various life stages, it is a good idea to review our strategy.  As always, I am here to help with your goals and strategies for achieving them.  Please feel free to contact me to discuss your specific situation at any time.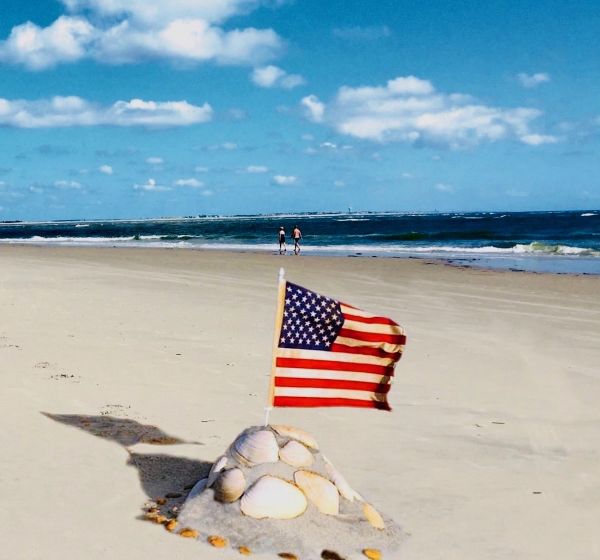 HAPPY 4th of JULY and have a fantastic summer!  
Company Information
John H. Kaighn offers various products and services under the trade name of Jersey Benefits Advisors.
PO Box 1406
Ocean City, NJ 08270
Phone: (609) 827-0194
Fax: (856) 637-2479
Email: kaighn@jerseybenefits.com
John H. Kaighn is an Investment Advisor Representative & Registered Representative of Royal Alliance Associates, Inc.  Securities and Advisory Services are offered through Royal Alliance Associates, Inc. (RAA) Member FINRA & SIPC.  RAA is separately owned and other entities and/or marketing names, products or services referenced here are independent of RAA.
10 Exchange Place
 Suite 1410
Jersey City, NJ 07302
Royal Alliance Associates, Inc. is not affiliated with Jersey Benefits Advisors or Jersey Benefits Group, Inc.
Insurance Services and Third Party Administration offered through Jersey Benefits Group, Inc., a licensed Insurance Agency in the State of New Jersey.
PO Box 1406
Ocean City, NJ 08226
Phone: (609) 827-0194
Fax: (856) 637-2479
Email: kaighn@jerseybenefits.com
All opinions expressed in this newsletter are independent of Royal Alliance Associates, Inc. and solely those of John H. Kaighn and Jersey Benefits Advisors.
*The S&P 500, the DJIA, the NASDAQ and others referenced are unmanaged indices that are widely used as indicators of Market Trends. Past Performance does not guarantee future results and the performance of these indices does not reflect the fees and charges associated with investing.  It is not possible to invest directly in an index.
*Dollar Cost Averaging through a systematic savings plan is an excellent way to build an account without a sizeable initial investment.  Saving a portion of our pay each month is very important.  Company sponsored pension plans are one method to save and should be used for retirement.  Other systematic investment accounts, such as ROTH IRA's, Traditional IRA's, Coverdell Accounts, 529 Plans, Brokerage Accounts and Annuities can also be opened, and debited directly from checking or savings accounts.  For more information, just call to set up an appointment.  Referrals are always welcome. 
John H. Kaighn