MARKET WATCH
I'm sure as the clock ticked past midnight on New Year's Eve, many of you felt the same as me as we pulled the curtain down to close out 2020.  Good riddance is a family-oriented utterance that comes to mind, although I am sure there are some stronger words that could express the emotional response many of us truly felt.  Anyway, with that said, at least the markets provided some very impressive results for investors in a year fraught with some harrowing roller coaster rides, as graphically depicted below.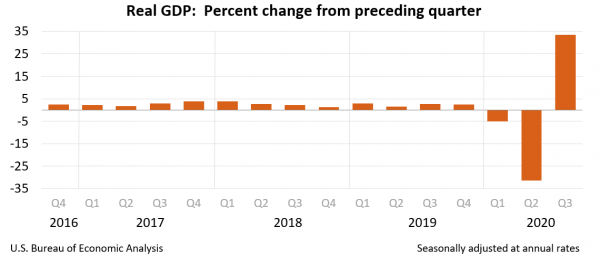 Since the market began its assent from the abyss in April, the NASDAQ*, which is the index of the major technology firms, has been setting the pace in what most people are calling a new bull market.  At the end of 2020, the NASDAQ* was just about eleven points shy of its all-time high of 12,899.42 closing at 12,888.30 which was a 43.64% increase for the year and by far the highest performing index.  The S&P 500* ended the year at 3,756.07, which was a new record high and a 16.26% yearly gain.  The Dow Jones Industrial Average (DJIA)* also closed out the year in record territory at 30,606.48 which added 7.25% to the index.
So, with a very rapid recession in the first and second quarters, as well as a sharp but short bear market followed by a phenomenal third quarter recovery, the new expansion and bull market seem to be firmly in place.  While certain sectors of the economy are still struggling, the sheer amount of stimulus unleashed thus far, as well as the quick recovery in the employment figures, bodes well for the markets as we welcome 2021.  Whether or not the markets are getting a bit frothy, which is a concern anytime an index registers a 43% return, nobody really knows.  As I've mentioned many times before over the years, corrections are an integral part of bull markets and tend to keep investors from getting irrationally exuberant.
As vaccines continue to be rolled out to help mitigate the effects of the Covid-19 virus, and the country continues to gradually reopen, the Federal Reserve has reiterated it will continue with an accommodative monetary policy stance until inflation continues to run above 2% annually. As of the November Consumer Price Index Report it was not even close, logging an annual 1.2% increase.  Unemployment continued to drift downward to 6.7% as those displaced during the pandemic continued to find jobs.  However, the unemployment rate was still 3.2% higher than in November 2019. 
The final estimate of third quarter Gross Domestic Product (GDP) reported by the Bureau of Economic Analysis (BEA) in late December indicated the economy grew at a 33.4% annual rate in the third quarter of 2020 after a 31.4% decline in the second quarter of 2020.  The BEA will report the advance estimate of fourth quarter growth at the end of January 2021.  Barring any unexpected circumstances, which by now I think we can all agree is entirely possible, GDP growth should be quite positive in the fourth quarter report and growth should continue to be strong well into 2021, as the markets have been indicating since April.
Real estate prices have been increasing in many areas of the country due to historically low interest rates, except in some of our major metropolitan areas where dangerous and damaging policing policies have led to an increase in major crimes and an exodus of homeowners.  Hopefully, these misguided policies will be corrected before much more damage is done to these crucial population centers.  If not, we'll continue to see an increasing number of people leaving their current zip codes for locations deemed safer and cheaper.
While everyone loves to get stimulus money deposited into their bank account, ultimately it is important for the economy to function without massive government intervention, such as we've seen throughout 2020.  Eventually, the debt we'veamassed during this crisis will need to be addressed.  The bill we are leaving for our children and grandchildren to pay certainly needs to be considered. If we continue to mortgage the future, inflation, which is currently tame, will become a factor and interest rates will need to be increased.  This is a major caveat of which we all need to be aware.  So, as we enter 2021, let's hope it is a much better year, and that we continue to put this pandemic behind us. 
POLITICAL THEATER AND GEORGIA ON MY MIND  
As the dust settles on the Georgia runoff elections and the Electoral College certification of the states' vote counts by Congress, perhaps we can get this country to settle down and begin some sort of useful political dialogue.  The polarizing factions on both the right and the left need to take a step back from the precipice and remember we are all Americans first!  Unfortunately, it seems like this may not be the direction in which we are heading.  However, I guess one could still dream.
In a recent poll, over 39% of the voters in the country were concerned about election irregularities and allegations of outright fraud, so one would think assigning a Congressional committee to investigate these allegations would be something both sides would want.  Having trust in our electoral process is sacrosanct, and both political parties have expressed many concerns about election security and fraud going back to the "hanging chads" of 2000 and more than likely all the way back to our first elections.
So, as we head into the winter months, I think it is important to remember most of us are somewhere between slightly left of center and slightly right of center, which means we should be able to discuss issues without resorting to name calling or out and out anger.  It is alright to disagree without hate, as this is the very definition of diversity.  Have a Happy New Year!
MANAGE YOUR DEBT, FINRA, SEC AND MORE
Most people carry debt in one form or another, and you are probably one of them. Your debts, also called liabilities, can include the mortgage on your home, loans for automobiles or education expenses and, of course, credit card balances. Virtually all of these debts come with an obligation to pay monthly interest on the balance you still owe. As you prepare to invest, take stock of your current debts and try to pay them down. The less money you put towards paying off outstanding debts and interest charges, the more you will have to save and invest for your future.
If you use a credit card to make purchases, you should know that they have advantages and disadvantages. If you spend within your means and pay off your balance on time—and in full—each month, credit cards can serve as a safe and convenient substitute for cash. And there is the added bonus that they can help you establish and maintain a solid credit history. But if you use them to purchase items you couldn't otherwise afford—or max out your cards to cover routine monthly expenses—credit cards can quickly compound your debt and hurt your credit score.
Few money-management strategies pay off as well as, or with less risk than, paying off all high interest debt you may have. Let's say you have a $3,000 balance on a credit card that charges 18 percent APR and requires a minimum payment of 2.5 percent each month. Assuming you charge nothing else, it will take you 263 months—nearly 22 years—to pay off your debt! In addition, the total amount you pay for that $3,000 charge will be $4,115.44—an amount that you could have saved or invested. If you can't pay off credit card debt immediately, work out a structured plan to pay off the balance as quickly as possible. You'll save money in the long run.
Here's a sobering statistic: In a recent survey, nineteen percent of respondents reported spending more than their income over the previous twelve months and many were behind on medical bills or paid their mortgage late. The good news is that in most cases spending can be controlled.
The preceding article was provided by FINRA.   In the United States, the Financial Industry Regulatory Authority, Inc. (FINRA) is a private corporation that acts as a self-regulatory organization. FINRA is the successor to the National Association of Securities Dealers, Inc. (NASD) and the member regulation, enforcement, and arbitration operations of the New York Stock Exchange. It is a non-governmental organization that regulates member brokerage firms and exchange markets. The government agency which acts as the ultimate regulator of the securities industry, including FINRA, is the Securities and Exchange Commission (SEC).
For more information about FINRA and/or the SEC, you can go to their websites, which are finra.org and sec.gov respectively.  There is a wealth of information on their sites to help individual investors learn more about investing, as well as the various professionals involved in the securities industry.  If you have any questions or would like to schedule an appointment, please contact me.
COMPANY INFORMATION
John H. Kaighn offers various products and services under the trade name of Jersey Benefits Advisors.
PO Box 1406
Ocean City, NJ 08270
Phone: (609) 827-0194
Fax: (856) 637-2479
Email: kaighn@jerseybenefits.com
John H. Kaighn is an Investment Advisor Representative & Registered Representative of Royal Alliance Associates, Inc.  Securities and Advisory Services are offered through Royal Alliance Associates, Inc. (RAA) Member FINRA & SIPC.  RAA is separately owned and other entities and/or marketing names, products or services referenced here are independent of RAA.
10 Exchange Place
 Suite 1410
Jersey City, NJ 07302
Royal Alliance Associates, Inc. is not affiliated with Jersey Benefits Advisors or Jersey Benefits Group, Inc.
Insurance Services and Third Party Administration offered through Jersey Benefits Group, Inc., a licensed Insurance Agency in the State of New Jersey.
PO Box 1406
Ocean City, NJ 08226
Phone: (609) 827-0194
Fax: (856) 637-2479
Email: kaighn@jerseybenefits.com
All opinions expressed in this newsletter are independent of Royal Alliance Associates, Inc. and solely those of John H. Kaighn and Jersey Benefits Advisors.
*The S&P 500, the DJIA, the NASDAQ and others referenced are unmanaged indices that are widely used as indicators of Market Trends. Past Performance does not guarantee future results and the performance of these indices does not reflect the fees and charges associated with investing.  It is not possible to invest directly in an index.
*Dollar Cost Averaging through a systematic savings plan is an excellent way to build an account without a sizeable initial investment.  Saving a portion of our pay each month is very important.  Company sponsored pension plans are one method to save and should be used for retirement.  Other systematic investment accounts, such as ROTH IRA's, Traditional IRA's, Coverdell Accounts, 529 Plans, Brokerage Accounts and Annuities can also be opened, and debited directly from checking or savings accounts.  For more information, just call to set up an appointment.  Referrals are always welcome. 
John H. Kaighn